S.E. Business Machines Inc. is an Authorized Kyocera copier dealer located in Ketchikan, AK. We provide copiers, color copiers, laser printers and multifunction devices.  S.E. Business Machines supports the state of Alaska Copier Contract Providing regular service to Ketchikan, Petersburg, Wrangell, Craig, Klawock and Metlakatla.
S.E. Business Machines Inc. is strictly in the Business of Servicing and Retailing Business Machines, and we are the Best! If you are shopping for a Business Machine, or have one that needs service, or you are not happy with the service you are receiving, please call and talk to one of our Business Machine Professionals!
Our goal is to have your office running as efficiently and cost effectively as possible. We are partnered with one of the the major suppliers of technology in the industry – Kyocera. This partnering coupled with our in house expertise means we can bring you the latest in technology at an affordable price.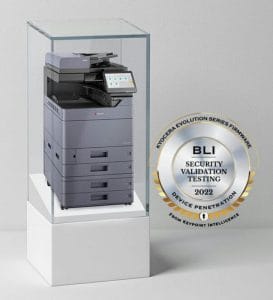 Kyocera Security is Keypoint Certified
With the volume and complexity of cybersecurity increasing by the day, data protection is now at top-of-mind for business leaders. In the face of this new wave of professional hackers, Kyocera has once again raised its fighting spirit, taking a proactive approach to ensuring its highest possible level data protection for its devices.
Kyocera was extremely proud to receive the prestigious Keypoint Intelligence Security Validation Testing certificate for its Evolution Series during its REIMAGINE dealer conference, which took place June 1-3, 2022 in San Antonio, Texas. The rigorous examination focused on both automated cyberattacks and white hat hacking and involved attempted Device Penetration of the firmware and underlying OS.
S.E. Business Machines services the entire line of Copystar products. The Copystar line of products is manufactured by Kyocera and is based on Kyocera's award winning technology.
Kyocera's Tiered Color System and Tiered Color Monitor
BRING AFFORDABLE
C
O
L
O
R
PRINTING TO YOUR OFFICE